What a difficult list to compile. Especially since, glancing down at my iTunes running, there are 33,773 songs in my library. According to iTunes, it will take me more than 100 days of continuous listening (with no sleep, now I realize) to listen to them all. It's rather extensive, and it's the sort of collection that makes my taste in music suspect at best, beginning as it does with A-Ha (because any collection without "Take On Me" is incomplete) and ending (before it reaches songs without proper ID3 tags and lumps them all) with "Skin Up Pin Up" by 808 State/Mansun from Spawn: The Album (iTunes is the first organization system I've seen that puts numbers after letters, rather than before; if it did, the first songs would be by 1 Giant Leap or 12 Rounds). In between those few, there's everything from Rick Astley, Belinda Carlisle, and Bon Jovi to all of Clapton, the Beatles, and Sinatra.
So it's pretty expansive.
But expansive as it is, I tend to stick to some favorites. Lately it's been a lot of Wolfmother (and Jet; what is it about Australia that inspires such great rock music from its bands?), Vanessa Mae, and, as always, Roger Clyne and the Peacemakers. Also, Adam Lambert and Matt Wertz.
So there's a lot. But I winnowed. I winnowed after I kept reading other lists that fawned over, like, Radiohead and such. I mean, has Radiohead ever managed to be as good as Pablo, Honey? They're like Pearl Jam and Matchbox Twenty, with fantastic debut CDs but output that has gotten subsequently less terrific with each title. For me, anyway. Your listening may vary. Also, dear Rolling Stone: The Strokes and Wilco in number 2 and number 3 spots, respectively. No offense, but seriously? No wonder people debate the continued relevance of the magazine. I mean, how safe.
Why not stretch a bit? Why not reach for some choices few people would expect? Then again, this from a guy who doesn't really enjoy any of those three bands. I know lots of reviewers fell over themselves to heap a lot of praise on Yankee Hotel Foxtrot, but there wasn't a single song on it that made me want to listen to the CD again. I get the impression it's all just, like, hey, everyone else likes it, so we should, too, but to cite one of the artists who earned a spot on my list by way of a great CD, "You don't know what love is, you just do as you're told."
So, suspect taste noted, shall we? My top ten albums of the last ten years, in order:
10. Guns N'Roses, Chinese Democracy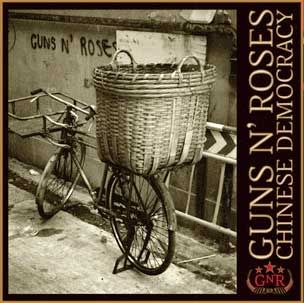 Poor Axl Rose. The funny thing about Chinese Democracy (or maybe the sad thing) is that nearly every review I saw of it called it a great rock album.
The problem, of course, was that after so many years and $13 million and all the publicity and press and breakdowns, a great rock album wasn't enough to satisfy most reviewers. Pitchfork, notorious for totally underwhelmed reviews, noted:
Axl took 17 years to, we hoped, explore new textures, manipulate songwriting conventions, seek out challenging collaborators, or delve into unfamiliar genres for inspiration.
Which I find funny as hell. Because seriously, after Appetite for Destruction and the Use Your Illusions, why would I want new textures or unfamiliar genres?
Fuck. That.
I mean, here's a guy, Rose, who, looking back over the past three decades, would pretty much manage a CD on each decade-end top-ten list. Who else can you say that about? And no, of course, it's not "Sweet Child o' Mine." There's no "November Rain." But Jesus is "Madagascar" a great song. Ditto "Better" and "IRS." I am an unabashed and unironic fan of GN'-fucking-R, and I loved this CD. It was mature in ways I never would have expected, and it really did feel like Rose took his craft to an entirely new level. That level may not have been the level lots of critics and reviewers wanted (not when they're looking to fucking Wilco and Radiohead and Animal Collective [seriously? W.T.F) as best inspiration, anyway), but then again, who cares? If you're not much interested in "sonic texture," if you really just want a great rock album (and one that, honestly, does achieve something terrific, even if it's a mess in doing so), I don't think you can go wrong here.
10. Various Artists, Across the Universe: Original Motion Picture Soundtrack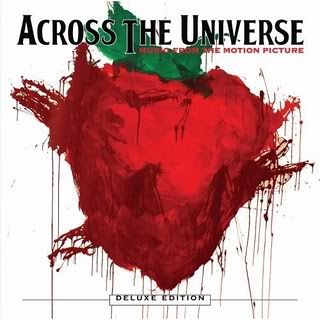 I've never really managed to get into the Beatles. I like a handful of their songs (their Ones CD is pretty good, for example), but overall, I've been underwhelmed by most of what I've heard, and can't figure out what everyone else is talking about (as I said, my taste may be suspect). I have, on the other hand, tended to enjoy Beatles' songs as performed by other artists. Don't know why, but reinterpretations or even faithful covers tended to get my attention more so than the originals.
So here we have the soundtrack to Julie Taymor's Beatles musical Across the Universe, which reminded me in ways of Moulin Rouge but was a little messier, and I've been listening to it frequently since I saw the movie. Even watching it, it struck me that Taymor hired Jim Sturgess because she couldn't get Ewan Macgregor; his Jude has similar mannerisms to Macgregor's Christian, and the two characters even sound a helluva lot alike. Couple that with some great reinterpretations of several songs (T.V. Carpio's "I Wanna Hold Your Hand" makes you believe she's actually reaching out, all longing and yearning and heartbreak. Gorgeous) and Joe Cocker doing "Come Together" and you've got a great CD overall.
8. Yoav, Charmed and Strange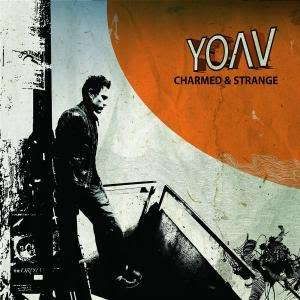 First of all, the title evokes subatomic physics (charm and strange are two of six forms quarks take), and second here's one guy with an acoustic guitar who somehow manages to make something like electronica–maybe folktronica?–using distortion pedals and the like better than even Howie Day or Anais. I first heard him on The Mentalist, which featured "Adore Adore" in one of its episodes; I had to rewind the scene and type furiously into Google to figure out what song the lyrics matched, but Hell was I glad I did. It's a pretty consistent CD, but it's consistently good, and that's what counts so far as I figure.
7. Lili Haydn, Light Blue Sun
I first saw Lili Haydn when she opened for Matchbox Twenty at the Hammerstein Ballroom on their first Yourself or Someone Like You tour, and of the two, I've stuck with Haydn longer than Thomas and the boys. I still love some Matchbox, don't get me wrong, but their CDs make me wish for their first, whereas Haydn's I just enjoy. She's a beautiful sprite of a thing, a gorgeous violin virtuoso–girl can sweep that bow like nobody's business.
Here is a varied disc; it alternates between–hey, folktronica!–to a funk rock track on which George Clinton and Parliament Funkadelic (!) guest, and I don't know about you, but I tend not to argue with anyone named Clinton. Some of the tracks ("Sweetness," certainly) are sexhi as hell, while others ("Denied") are quieter and address big issues (faith, there). It's a great CD by a great artist who continues to develop.
6. Mos Def, The Ecstatic
After Black on Both Sides and The New Danger, I had my eye on Mos Def, who went on to play Ford Prefect in The Hitchhiker's Guide to the Galaxy; I always thought his music was rather sonically dark, but I really liked I liked how he used a lot of instruments and didn't focus so much on beats, concentrating instead on writing great songs with really well written lyrics.
The Ecstatic took him to a new level, though. It's got some rock to it, like a few of his earlier releases, but the integration has never been tighter, nor his focus more clear. Here he manages to address big issues but never loses sight of the fact that he's trying to make good music, and holy Hell does he manage it. Seriously.
It's also worth noting this is one of the more interesting ways I've seen a CD marketed, sold, and distributed; I caught wind of it on Gizmodo before I heard about it anywhere else, because Def decided to make tee shirts, sell them for about twenty bucks, and include the music for free with the shirts. I, for one, think that's genius, and another example of an artist using innovative ways to get work out there and get paid for it.
5. The White Stripes, Icky Thump
I think Rolling Stone went with Elephant, but for my money, the White Stripes just keep getting better, and given that this is their most recent CD, that logically means it is for me their best. And I love it. The title track is one of the better rock songs I've heard in, like, ever, but the whole CD is terrific, including the aforementioned "You Don't Know What Love Is." How a two-person band could make a CD so sprawling, with so much going on, but yet still keep it focused on being good, is pretty damned amazing so far as I'm concerned.
4. Eminem, The Eminem Show
Rolling Stone went for The Marshall Mathers LP, which I'm actually listening to as I write this, and yeah, it's good, but it's not The Eminem Show, which really found Eminem at the top of his game (forgetting the truly unfortunate Obie Trice track "Drips," which is silly in how dreadful it is). On Mathers, Em noted he was whatever we said he was, and here he makes good on that promise by not only becoming everything everyone ever said he was but also somehow managing to comment on it–it's delirously meta-tastic, with an artist commenting on his rapper persona's alter-ego, and the fact that one cannot actually certainly note which character–Marshall Mathers, Eminem, and Slim Shady–is which just bears out how ludicrously talented Eminem is, not to mention how ludicrously terrific this CD is. Ranging across genres–rock to rap to wtf country with the crazily good "Square Dance"–and who would have thought one of the best tracks would include the vocals of his daughter?
Several years ago, based mainly on the strengths of this CD and its predecessor, I made the argument that Eminem might well be the Shakespeare of our time. I meant it in the sense of his wordplay and his lyrical genius–and no, I don't think there's another word for it. Sadly, Encore was not nearly as good, and then his personal issues overwhelmed his ability to make good music. If Relapse is the Slim Shady LP of the second part of his career, though, well, I think he could resume his stance at the top of the game.
3. The Killers, Sam's Town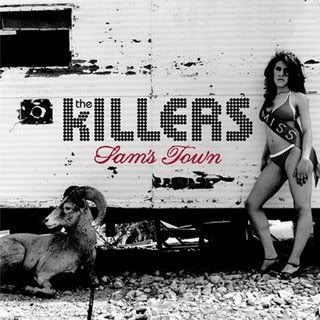 I'm sorry, but regardless of "Somebody Told Me" and "Mr. Brightside," no matter how very good both are, did anything on Hot Fuss make us believe the Killers could make a CD like Sam's Town? Bar none, it's one of the most epic and great rock CDs of the past twenty or so years, and I'd easily put it up there among The Wild, The Innocent, and the E-Street Shuffle. It's definitely Springsteen-esque ("When We Were Young" is probably the greatest song the Boss never wrote), but it's distinctly the Killers', a new CD for a new America by the only generation qualified to make it: a new one. Everybody thought rock was dead, but grunge and its flannel shirts and shoegazing were never really rock, and here, finally, we got probably the first great rock CD since Appetite for Destruction, and the one that did the most with it. Of course, it accomplished very different things, but that's probably because it has a conscience to it.
It proved that rock didn't have to just be rock, just be mindless. Brandon Flowers, the lead singer, claimed his band had made the best rock album in twenty years, and honestly, besides Appetite for Destruction and maybe Slippery When Wet or New Jersey, I can't think of many others worthy of mention–that's how good this CD is.
It may just, in addition, be one of the final albums we ever hear, given the trend of playlists built from iTunes singles; I can't think of many others that hold together so cohesively. I'm sure more will come in the future, but I fear they will be exceptions, and not the norm.
2. Butch Walker, Letters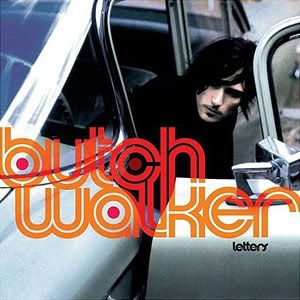 Walker was the lead singer of the Marvelous 3, one of the best and most underrated bands of the 90s; as such, it was a tough choice between this CD (his second as a solo artist) and Ready, Sex, GO!, the final M3 disc. In the end, though, I have to go with this one. Walker was named as a "hot" producer by Rolling Stone–he's worked with everyone from Kelly Clarkson (he wrote "Since You've Been Gone") and Avril Lavigne to The Academy Is… and that band that sings "This Ain't A Scene (It's an Arms Race)" (Fall Out Boy, I want to say?).
But then I think of the songs here. "Mixtape" may have gotten some play in shows or on the radio, even, "Maybe It's Just Me" is terrific, but then it hits "So At Last":
So at last, Southern California, sunset like a long goodbye.
And by the time I left Hollywood in 2008, I totally identified with "Uncomfortably Numb":
Got to get out of Los Angeles, so blind I can't see; Got to get out of Los Angeles, got to get Los Angeles out of me.
(and nearly two years later, I still may not feel totally clean of LA)
The whole time I was there, though, I loved "Lights Out":
I'm feeling kinda bored so let's go charge up the car
Let's all put on those trucker hats
And head out to a bar.
We'll end up at the Standard,
in the bathroom doing coke;
This is very Hollywood and yeah I get the joke.
Not that I did any coke in the Standard bathroom, but shit did I drink a lot of Patron there once upon a time.
I feared, in fact, that this was getting a spot because it was so part of my life, then, but no: Walker is a seriously great artist, and this is a seriously great CD, beginning to end. It's not all rock, either; "Joan" is quiet and poignant, too. Overall, it's just consistently excellent.
1. Roger Clyne and the Peacemakers, !Americano!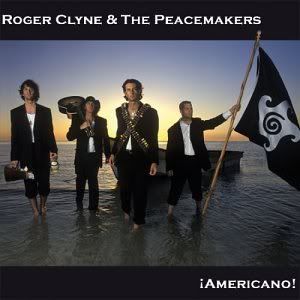 Here again was a dilemma: I couldn't decide between this or "No More Beautiful World." Both are great. !Americano!, though, is about something.
If Bob Dylan is the poet laureate of rock, Roger Clyne is his heir. The man is an absolutely genius songwriter, a terrific lyricist, and one of the greatest performers I've ever had the pure pleasure of seeing. The first time I saw him was at a solo acoustic show in Chicago in 2002 or so; he played for something like four straight hours, and consumed in the process probably an entire bottle of tequila (tequila figures into a lot of Clyne songs). Back in the nineties, Clyne and the drummer, P.H. Naffah, were part of the Refreshments, a band that produced two CDs before breaking up, and then they got together, first as a duo before adding a bassist and a lead guitarist, became the Peacemakers, and put out another quality CD Honky Tonk Union.
Every CD Roger Clyne has made is pure quality, but this one, from 2004, takes their socially conscious music to an entirely new level while never missing the fact that good songs come first (this is a recurring theme for me). The first single, "God Gave me a Gun," is one of the best anti-violence songs I've ever heard, while the first, titular track addresses the American soul. Which sounds grandiose, but like I said, these guys have the rare gift of making music with a conscience that never stops being good first. There's a sense of roots here, not just to music of the past but–as unfortunately New Age-y as it may sound–to us, to life, to the Earth. To the dusty heartland, which is only the heartland because we've invested so much of our hearts into it.
For example, "Switchblade":
They were sharp enough to cut another hole in the sky, hard enough to make the proudest diamond sigh, faster than the rockets on the Fourth of July, strong and cool enough to make a statue of Mary cry.
I mean, as a writer? Hell, as a reader? That is one of the most purely evocative passages I've ever seen. That's, like, Gaiman-level good, Jonathan Carroll-level fantastic. Bloody brilliant is what that is.
The afore-mentioned "God Gave Me a Gun"?
Might makes right now
Whom shall we fight now
Bullet through the barrel thy will be done,
God gave me a gun.
"Your Name on a Grain of Rice" may be one of the single finest love poems ever written. And the hidden track, "Little Hungover You," calls to mind "Great Balls of Fire."
Which is the particular genius here: it calls to mind. Or maybe heart. Or maybe something even more, something greater. Who knows? It's good music that hits you in the gut, and it is, for my money, the single best album I purchased in the past ten years. And maybe even ever.