Caught this on Sunday at the Bruceblog. I'm not sure who Bruce is besides an ostensibly democratic voter who supports Obama (warning: lots of McCain derision at the site. Follow at your own risk).
That post in particular, though, refers to something far greater. On Friday afternoon, during Ramadan prayers, someone sprayed a chemical irritant through a window and into a nursery in a mosque in Dayton, Ohio. Bruce got the info, apparently, from this post at the Daily Kos. If you follow their links, though, both links on both blogs seem to point to this page, which notes that the Dayton police have determined there is no evidence the gassing of the mosque was a hate crime. They don't mention if any other buildings were gassed, though; just the mosque and a 10-year-old girl.
Here's the problem: that article is dated just yesterday, but both blogs went up over the weekend, on Sunday. One is dated 5 p.m., the other 7 p.m.
So either Bruce and Chris Rodda at Kos are psychic, or something more fishy is going on.
(I wouldn't be writing about this if it were the former)
It seems it's the Dayton Daily News. It seems they removed an article from their online database. Here's their mention of it on Friday, which seems to be the 'breaking news' article and is attributed merely to a 'staff writer' and which notes "Report of chemical irritant empties church." Sidenote: there is a difference between a church and a mosque, isn't there? I know both are places of worship, but I've only ever heard of 'church' referring to Christianity/Catholicism, whereas I thought "mosque" referred specifically to places of worship for Islam. I could be wrong.
So, on Friday, a mosque in Dayton had an experience with, and I quote, a "chemical irritant."
This seems to be a Saturday article, by Kelli Wynn, noting that a probe into the incident is 'continuing.'"
Here's where things get fishy, though, because I read those posts on Sunday and clicked through to the Dayton Daily News link. I had planned to write about it when I found more information.
I have not. I'm writing about it now because rather than information being revealed, it seems it's actually actively disappearing. I went to their site this morning to see if anything new had occurred, and I couldn't find the article I distinctly remembered reading.
But I figured I must have done so on Sunday, so I went to the Dayton search function, which can filter based on the day, and I ran a search for Saturday.
Here's a screenshot of what came up:

Curious, I thought. Especially looking at the dates. That "Police: No evidence of hate crime" article is 9/30. Which was yesterday. Not Saturday. And it was certainly not the article I read.
But then, I know I caught the article via those two blogs. Which were posted on Sunday. So I thought okay, perhaps the article was from Sunday.
So I filtered the search to all headlines from Sunday.
Here's a screenshot of what came up:

But again, the only article pertaining to the weekend is dated Monday. And I know that article is not the one I read over the weekend. And don't get me wrong; I'm glad the police have ruled out that it might have been a hate crime (although I'd like to know how they did so).
But still, where's that other article?
So I did what anyone might do: I Googled it. And it came up right away.
See: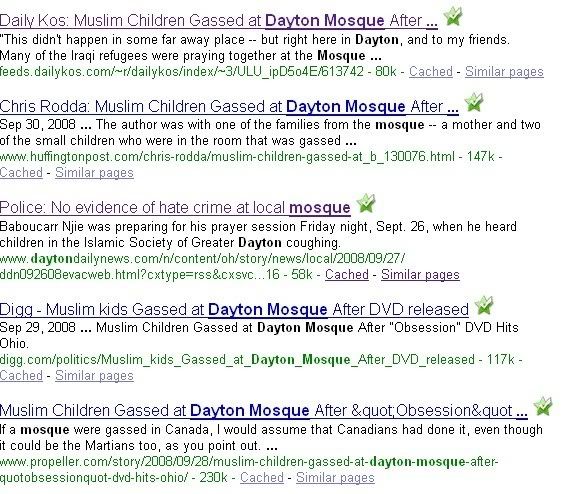 And I was sure it was the article I read. That name that opens the article had stuck out, and I knew that was the right article. So I clicked on it.
To discover that the police were claiming there was no evidence of a hate crime.
Again, not the article. Apparently, the article I remembered was no longer on the Dayton Daily News site. If it's not just plain odd, I think it's kind of scary. Especially considering the article as I remembered it.
If only . . .
And then I remembered Google Cache. Google takes a snapshot of the pages and saves them, at least temporarily.
Here are the snapshots Google took of that article: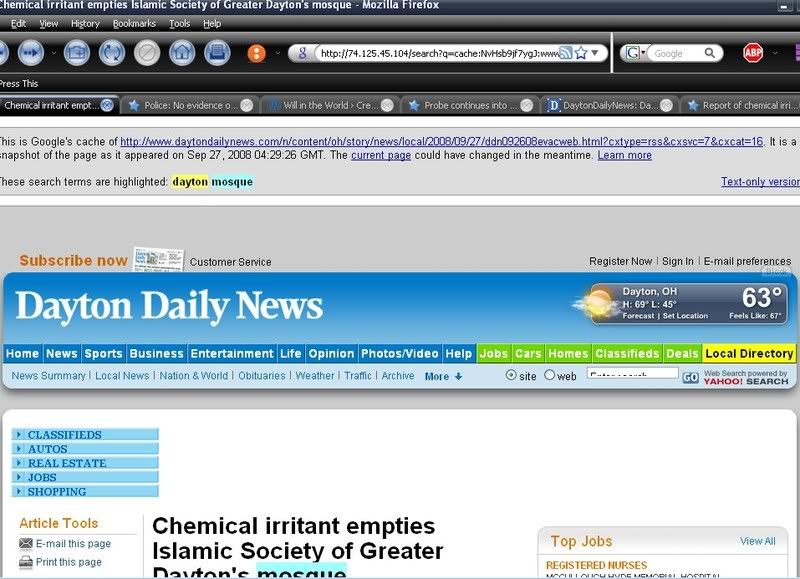 (With the heading/Google text, which I'll return to in just a moment)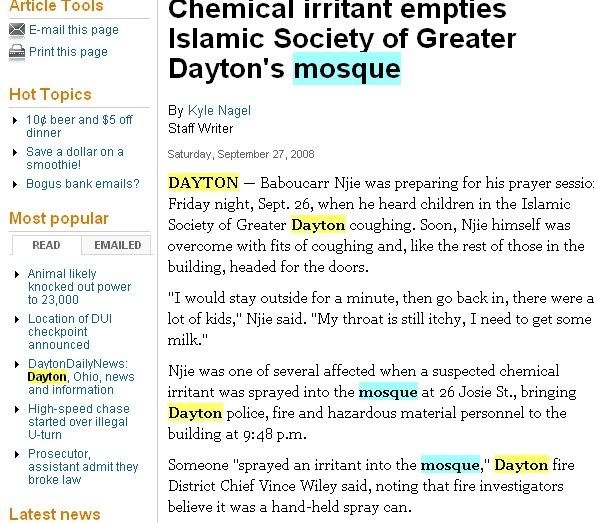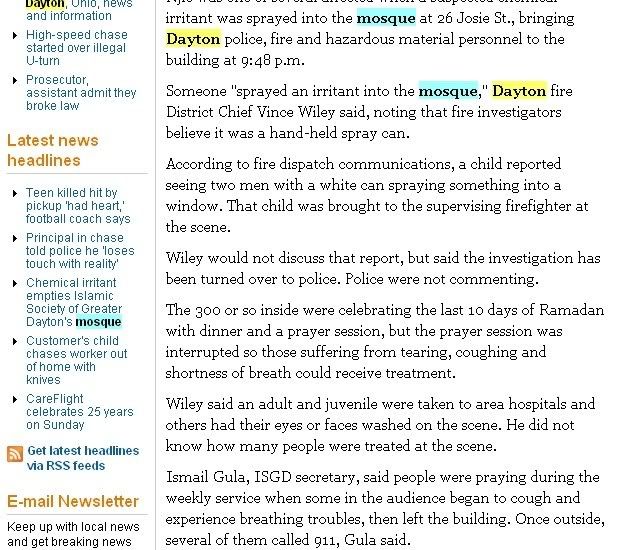 (I like that this one highlights the "mosque" story under latest headlines, which I'll also return to in just another moment)
And finally:

So, I note the Google text because Google goes out of its way to post the link to the original content but note that it may have changed.
And it has. Clicking on that link takes you to the "Police: no evidence of hate crime" article.
As does the link concerning the chemical irritant at the mosque under the latest news and headlines: goes to the "Police: no evidence of hate crime" article.
This seems to me unethical. It's not even consistent: not all links or relics of the article have been erased to link to the "Police: no evidence of hate crime" article; it's like it's been selectively scrubbed. There's the breaking news, and then the probe (which, oddly, I now realize I can't remember how I found, and it doesn't come up under Saturday's headlines), and then that police are saying it's not a hate crime. The latter of which is literally backdated across the entire weekend.
But the other odd thing I noticed, under Saturday's headlines: apparently, the community met on Saturday to discuss a DVD called Obsession, which was inserted into several community's newspapers (giving it rather wide distribution). Quoting the article:
Members of several Dayton religious organizations will meet at 3 p.m. today, Sept. 28, to view and discuss a DVD about Islamic radicalism that was mailed to some area homes and circulated with newspapers here and around the country.

The DVD, "Obsession: Radical Islam's War Against the West," appeared as a paid advertising insert in the Dayton Daily News, Springfield News-Sun, Hamilton JournalNews and Middletown Journal, all owned by Cox Ohio Publishing, on Monday, Sept. 22. More than 70 other newspapers nationwide have also carried the advertisement.
Which really makes things odd, doesn't it? On Monday, more than 70 nationwide newspapers (only 70? Who decided what newspapers got them? [according to the article, the Clarion group paid to have the DVD inserted into newspapers in swing states]) carry a DVD. According to this site:
The DVD is a 60-minute expose of militant Islam called "Obsession: Radical Islam's War Against the West" and is ideologically slanted toward painting Muslims as evil and bent on the destruction of the United States. It was nationally premiered on Fox News during the 2006 mid-term elections. Labeled highly divisive by many mainstream religious groups, "Obsession" shows Islam as a radically dangerous religion bent on the destruction of Western civilization, interspersing incendiary commentary with images of Nazis and suicide bombing indoctrination.
Four days after this DVD is released, someone sprays a chemical irritant through a window and into a childcare room at a mosque in a community whose inhabitants were concerned enough about the rhetoric in the DVD to call a meeting about it. It's not clear whether they scheduled the DVD discussion before or after the mosque someone sprayed the chemical irritant through the mosque window, or at least I can't tell.
But according to the police, there's "no evidence of a hate crime."
Is it just me, or doth they protest too much? Someone sprayed a chemical irritant into a mosque and into the face of a little girl.
I mean, if it looks like a terrorist attack committed using chemical warfare, and it sounds like a terrorist attack committed using chemical warfare, do you think that the Dayton police would call it a hate crime and the Dayton Daily News would call it a terrorist attack committed using chemical warfare if said act had chemical irritant had been sprayed into the window of a church, rather than a mosque?