I caught this article on Yahoo! concerning Barack Obama's response to John McCain's suggesting we postpone the presidential debate to, you know, focus on the economy.
That response? Here:
It's my belief that this is exactly the time when the American people need to hear from the person who, in approximately 40 days, will be responsible for dealing with this mess.
My response was a little more abstract. It was:
"McCain wants to postpone the debate? You don't say…"
Because, since the beginning, I've thought the debates would be one of the deciding factors in this election. Much like historians sometimes cite the very first televised presidential debates, back in 1960, between John F. Kennedy and Richard Nixon.
History Now makes some interesting points regarding that historical moment:
The debates made Kennedy look like a winner. His practice of looking at the camera when answering the questions — and not at the journalists who asked them, as Nixon did — made viewers see him as someone who was talking directly to them and who gave them straight answers. Kennedy's performance showed not only that he was a knowledgeable and credible elected official, but also that he just plain looked better. The often repeated story — which is in fact true — is that polls taken after the first debate showed that most people who listened to it on the radio felt that Nixon had won, while most who watched it on television declared Kennedy the victor. A polished public speaker, Kennedy appeared young, athletic, handsome, and poised. Nixon, wearing a gray suit that blended with the television backdrop, pale and thin after a recent hospitalization for the flu, sporting a five-o-clock shadow, and refusing to wear make-up, appeared tired, pallid, and sweaty. He freshened up his appearance for the next three debates, but years later he remembered the lesson well. When he opened his next presidential bid in 1968, it's no wonder he declared himself "tanned, rested, and ready."
Why do I think McCain wants to postpone the debate?
I'll show you.
Here's John McCain in high definition:
And even in close-up: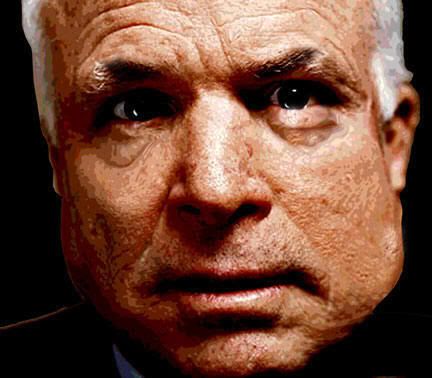 And now here's Barack Obama in high definition: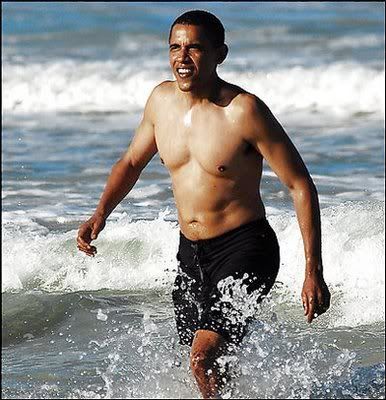 And in close-up:
Not to be superficial, or anything. But seriously, if I were John McCain, I'd want to put off standing next to Barack Obama as long as possible, too. Just like choosing a completely unqualified female running mate, it is, again, McCain's postponement proposal is nothing more than a desperate move by a desperate man who long ago sold out his integrity and everything else he believed in for a nomination.
Even frickin' Yahoo! calls him on it:
Even as McCain said he was putting the good of the country ahead of politics, his surprise announcement was clearly political. It was an attempt to try to outmaneuver Obama on an issue in which he's trailing, the economy, as the Democrat gains in polls. He quickly went before TV cameras minutes after speaking with Obama and before the two campaigns had hammered out a joint statement expressing that Congress should act urgently on the bailout.

And while McCain's campaign said he would "suspend" his campaign, it simply will move to Washington knowing the spotlight will remain on him no matter where he is.
And here's Chuck Schumer opining not just about how unhelpful it is but, and I quote, that it's "the last thing we need during these delicate negotiations":
I think McCain knows that, actually. I just think he also knows that while he's the last thing the country needs, the debates are the last thing he needs, and that self-interest is taking priority.